Dallas Slip-and-Fall Lawyer
Slipping and falling can lead to serious injuries, and if your accident was caused by someone else's negligence, you can file a claim for damages. This is a type of premises liability claim and premise liability laws in Texas apply to make these challenging cases.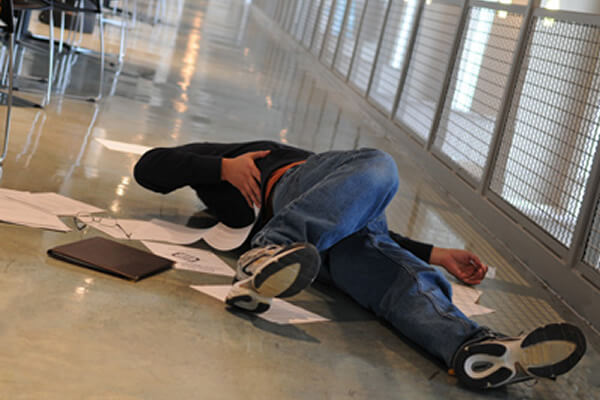 Most people don't know there are specific laws pertaining to injuries that occur on someone else's property.  That area of the law is known as premises liability.  Everyone from your grocer, your local coffee shop owner, your employer, even your friends and relatives, must ensure that all who enter their respective properties are safe from injury.  If they fail in that duty and you are injured as a result, you can file a personal injury claim against them.  
This claim is meant to compensate you for the injuries you've suffered and the monetary and non-monetary ways your accident has affected your life. Filing such a claim is almost never easy or simple, and certainly people do not like to be sued. If you're like many other victims of property hazards, you'll want to get a Dallas slip-and-fall lawyer on your team to make this whole process a lot easier and much less stressful for you. To do that, all you need do is get in touch with our firm.
What Is a Slip-and-Fall Injury?
Slip-and-fall accidents and trip-and-fall accidents are virtually the same but are differentiated by the cause of the fall.  A slip is usually related to liquid or ice, and a trip would be linked to a tripping hazard, such as a loose floorboard or an object in your path.  These types of falls are compensable when they happen on someone else's property and if negligence is found to have played a role in the accident. Negligence in these types of cases involves creating a dangerous condition on the property or allowing one to exist. Property owners have a legal duty to keep their premises free of hazards, or correct them quickly when they arise, and/or warn of them so no one gets hurt. Some of the serious injuries these slips and trips can cause are listed below. 
Traumatic brain injuries and other head injuries
Broken and fractured bones
Back and spine injuries
Twisted ankles and leg muscle injuries
Sprains and strains
Wrongful death
Compensation for Your Dallas Slip-and-Fall Claim
The more serious your injury is, the more damages you will likely have.  The law holds that you shouldn't have to pay for those damages someone else caused.  Slips and trips can cause injuries that may leave you with losses that could last a lifetime.  Here's but one example. If you fall at a restaurant because a worker forgot to put out a "wet floor" sign, you could hit your head and suffer brain damage.  The brain damage could be permanent, preventing you from enjoying your life as you once did, and you could be unable to return to work. How will you support yourself after that?  You will certainly need compensation for an injury of that magnitude.  The following is a list of damages you can seek compensation for after a slip-and-fall accident in Dallas:
Pain and suffering
All accident-related medical expenses, including surgeries, physical therapy, co-pays, hospital visits, and medications
The loss of work wages and future income
Permanent scarring or disfigurement
Loss of your ability to enjoy your life
Mental trauma caused by the accident
Mental health services
Dealing with the Insurer After a Slip-and-Fall Accident
You must file an injury claim to obtain a settlement for your damages, but who do you ultimately seek compensation from?  You may file your claim directly with an insurance company.  Most business and many homeowners have insurance to protect them from the financial liability for injuries on their property.  The insurers most likely won't want to pay you fairly for your injuries.  They may even deny your claim completely.  In that event, an experienced trip-and-fall lawyer will not hesitate to fight for you in court.  In most cases, though, your attorney will be able to negotiate fair compensation with the insurer or property owner.  Insurance companies will try to take advantage of those who don't have legal representation, so trying to handle a slip-and-fall claim on your own could be a big mistake.
Connect with a Dallas Slip-and-Fall Attorney
Your slip-and-fall accident might have left you dealing with significant losses, such as medical expenses, lost wages, and the pain and suffering of your injuries.  You may even be dealing with emotional and mental trauma the accident caused you.  You deserve to be compensated for all the ways you've suffered, but you don't have to deal with an injury claim on your own.  Filing a claim for a slip-and-fall can be stressful, but not if you have help.  Speak with a Dallas Slip-and-fall lawyer at The Law Offices of Charlie Waters about your case for free.  Call 214-742-2223 or complete the Contact Form below.