PERSONAL
Injury…
It's Who We Are
A tragic event causing serious personal injury, or the loss of a loved one, can occur at almost any moment to any of us.  The results can be devastating to an individual or an entire family.  Quality legal advice can be critical at such a time.  Retaining a knowledgeable and experienced personal injury lawyer may be an urgent necessity.  
Handling personal injury and wrongful death cases is all we do.  It's all we've ever done for over three decades…and we're good at it.  
We fight for the rights of our clients and welcome every battle. In fact, we take the fight to the insurance companies and to the at-fault parties.  The battle can sometimes be a long and tough, but we're committed to our clients every step of the way. From day one, we lift the burden of the case off our clients' shoulders and onto ours, where it belongs, so they can focus exclusively on physically and emotionally healing.
We get results for our clients.  We are experienced, aggressive, thorough, professional, and as tough as we need to be.  We know what it takes to prove liability and maximize an outcome.  We know how to take care of your case…and how to take care of you.
WE
Illustrate
Your Injury
We know a picture is truly worth a thousand words when it comes proving your case, demonstrating the nature of your injury, and showing what you've had to go through in trying to recover.  We use medical illustrations and animations of all kinds to bring the reality of your injury to the courtroom and to the settlement process.  Powerful images like these help us convince a jury (and insurance adjusters) of the severity of your injury and at the same time increase the settlement value of your case.
Our clients are more than just individuals we represent.  We form real relationships…meaningful, personal, and trusting relationships.  We get to know our clients, and they get to know us.  It's very much a two-way street and we enjoy that immensely.  We know our clients are going through one of the most difficult and frightening experiences of their lives, and we realize they need someone who will take the time to get to know them and learn what they're experiencing.  That's who we strive to be for those we are privileged to represent.
During our representation we want to hear about you and how you're doing, what you're feeling and what your concerns are.  We don't just represent our clients; we invest in them with our time and our devotion to all they are experiencing.  We work with our clients… not just for them.  This brings us closer to those we represent and makes us better at what we do.  And for this reason, we tend to remain close friends with our clients long after their cases resolve.  We wouldn't have it any other way.
As a client we also expect you to have questions… lots of them.  The entire process is likely foreign to you, and we realize that.  In fact, many people we've represented had never hired a lawyer before.  We welcome all our clients' questions and the opportunity to explain things.  We promptly answer any questions our clients might have.  After all, it's their case and they need to know what's happening, how things work, and what to expect.
YOUR
Case Outcome…
It's Everything!
With any injury, or wrongful death, a person has only one claim, one lawsuit, in essence one opportunity, to be compensated under the law.  Everything is riding on that opportunity and the ultimate case outcome.  We understand the reality and welcome the responsibility.  We're dedicated to finding out who was at fault and taking every step necessary to hold them fully responsible under the law.  We leave no dollar behind in pursuit of getting our clients the full compensation they're entitled to and deserve.  We know all too well that insurance companies are not going to step up and voluntarily take care of the injured even when they know they owe money.  That's where we come in.
Consultations and case evaluations are always at no cost and no obligation.  We will come to your home or hospital if needed.  We handle all cases on a contingency fee basis, meaning you never owe us a fee unless we win.  If you think you need the services of a trial lawyer, you probably do so don't delay.  Contact us.  The people you will be up against, and their insurance company, may already be hard at work on their defense to your case.
We're very good at what we do and we've been doing it a long time.  There is no substitute for experience.  There is no other measurement but success.  Allow us the opportunity to combine our vast experience and legal skills with you and your case. Together, we can make a powerful and successful team.
You can find us on Yelp and Nextdoor! We appreciate any and all recommendations.
We have beautiful courthouses across our great state and we've been to many of them. We go wherever we're needed to hold those at fault fully responsible for the harmed they've caused. In over 3 decades of representing Texans, we've filed lawsuits in 24 counties…and counting. 
No matter where you live or where your injury may have occurred, if you need us we're there.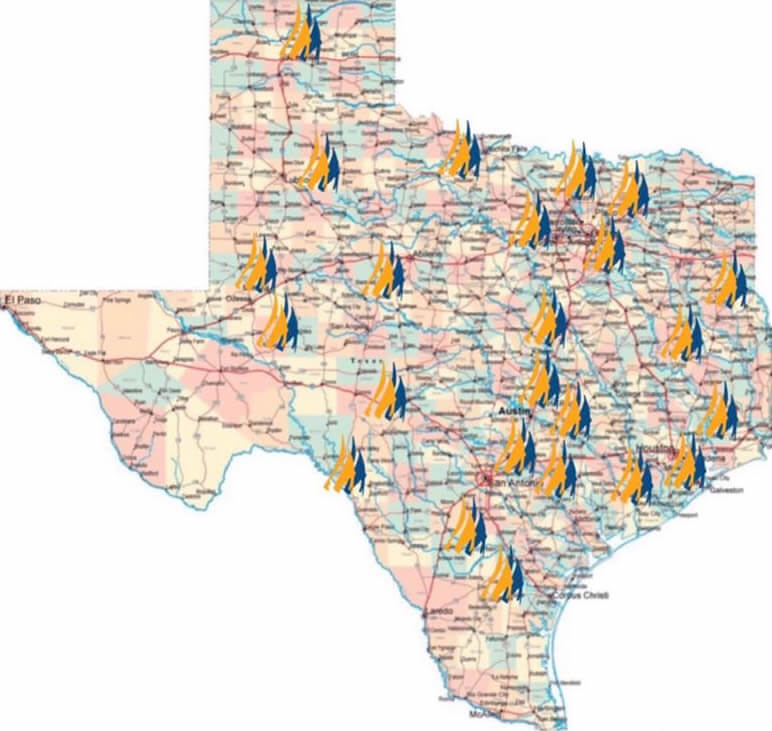 Abilene (Taylor County)
Amarillo
Angleton (Brazoria County)
Austin (Travis County)
Beaumont (Jefferson County)
Dallas
Del Rio (Val Verde County)
Denton
Dripping Springs ( Hays County)
Fort Worth (Tarrant County)
Galveston
Georgetown (Williamson County)
Henderson
Houston (Harris County)
Lubbock
Marshall (Harrison County)
McKinney (Collin County)
Midland
Odessa (Ector County)
San Angelo (Tom Green County)
San Antonio (Bexar County)
Sherman (Grayson County)
Tyler (Smith County)
Wichita Falls