Dallas Car Accident Lawyer
Have you been injured in an auto accident and aren't sure how to secure the compensation you deserve? If so, reach out to a Dallas car accident lawyer for assistance. We want to take the burden off you in every way we can so you can focus on your medical treatment and getting better. That's what we're here for.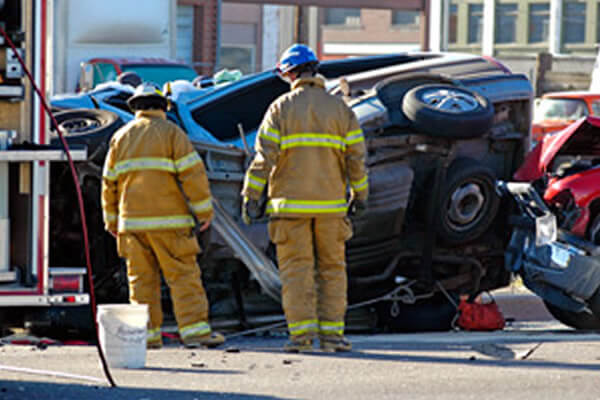 No one is ever prepared to be injured in a car accident, and the injuries survivors sustain are often significant. Your entire life can feel upside down and scary when you're incurring huge medical expenses and your household bills remain unpaid because your injuries keep you from working. Getting help from a Dallas car accident lawyer can be the best way to pick up the pieces of your life.
We Get Started Immediately
The Law Offices of Charlie Waters has helped countless car accident victims and their families in all kinds of automobile collisions. We get started on Day One by:
Investigating the collision to gather evidence
Talking to witnesses while their memories are fresh
Hiring accident reconstruction experts (if needed)
Helping you find a doctor so you can get the treatment you need
Filing necessary insurance claims/forms
Negotiating your claim
Filing a lawsuit and pursuing your case to trail if a fair settlement cannot be obtained.
The Law Offices of Charlie Waters is committed to working with injury victims to help them obtain fair compensation. We will determine who is at fault for your car crash, so the appropriate party is held accountable for their negligent actions. With our firm by your side, you can be sure that a team of highly trained professionals will do everything possible to get justice for you.
Establishing liability is of utmost importance to the success of your Dallas accident claim. Your automobile accident attorney's investigation into the wreck will determine who is liable in your case. You may assume that the driver who hit you will automatically be at fault. This is often true, such as in the case of drunk, drowsy, distracted, intoxicated, or aggressive drivers.
However, other parties might have contributed to your accident. For example, if something malfunctioned on one of the cars, including your own, then the parts manufacturer and/or automaker could be found responsible for your damages.
What's more, if conditions on the roadway were dangerous in some way whether due to a missing street sign or massive pothole, a road construction company or the Texas Department of Transportation may be compelled to compensate you. In any event, a good automobile accident attorney will bring claims against every party who may have played a part, so you are able to rebuild your life without financial worry.
Your Car Accident Claim and Dealing with the Insurance Company
Any time anyone is involved in a car crash, they will need to file an insurance claim with the other driver's insurance company, and maybe their own. It may seem simple enough to obtain a reasonable settlement but unfortunately insurers only masquerade as being on your side and rarely, if ever, prioritize your needs above their own. That's when an experienced car accident lawyer can really help.
As a for-profit company, every time an insurance company settles a claim, they lose out on money. That's why they often do whatever they can to reduce the amount you'll be awarded. From twisting the recorded statements given to them by well-intending claimants to making an insultingly low offer, some insurance companies are prepared to fight hard to minimize your car accident settlement.
This shouldn't concern you, however, because your Dallas automobile accident attorney has years of experience dealing with money-hungry insurance companies. We'll never allow you to settle for less than what you're owed.
Getting Compensated for Your Car Accident Damages
By now, you are probably wondering just how much you can expect to win if your Dallas car accident claim is successful. The amount will vary on a case-by-case basis, but generally, the kinds of damages you will seek are universal under Texas law.  To start, your car accident lawyer will calculate the total impact of your economic damages.  These include among other things:
Damage to your earning capacity
Medical bills
Ambulance fees
Costs of prescription medications
Costs of rehabilitative therapy
Property damages
Once our car accident lawyers have a handle on how much your financial losses amount to, we'll move on to your non-economic damages.  These losses refer to the influence on your emotional state and lifestyle and will often consist of damages like the following:
Pain and suffering and mental anguish
Loss of enjoyment of life
Loss of companionship and love
Loss of household services
Scarring or disfigurement
You may also find that your award is increased if the judge in Dallas awards punitive damages.  However, these damages are only awarded when the defendant has acted egregiously or was intending to cause you harm.  The hope is that by punishing the liable party for their abhorrent actions, the Dallas courts will demonstrate to future wrongdoers that their actions are unacceptable. An experienced Dallas car accident lawyer knows how to calculate all your damages, so we leave no dollar behind.
Dallas Car Accident Lawyer FAQs
Car accidents happen so suddenly that the aftermath can leave you in a daze. To clear up some of the confusion about what you can expect when you're considering an auto accident claim, we have compiled a list of some of the most frequently asked questions (Car Accident FAQs) from injury victims throughout Dallas.
You can always reach out to our office directly if you're interested in asking a question that hasn't been addressed here or in the Car Accident FAQs section.
Will We Have to Go to Court to Settle My Car Accident Claim?
It's a definite possibility. In some cases, we are able to get the insurance company to agree to settle your case for an amount that adequately reflects the damages you've endured, but other times, the insurer refuses to continue negotiating, and we'll be forced to bring them to court in order to obtain the money you deserve.
We understand how intimidating going to court can be, but your personal injury lawyer will only bring your case to court if it's in your best interest. You can be sure that your car accident injury lawyer will work as quickly as possible to obtain the funds you need.
Do I Have to File My Claim in Dallas Within a Certain Amount of Time?
Yes, this deadline is referred to as the statute of limitations. Under Texas law you generally have 2 years from the date of the accident to file your claim in court.  This deadline is important as failure to file within the time limit will result in you being denied the opportunity to pursue your claim after the statute of limitations expires.
Get Help from a Car Accident Attorney in Dallas
If you need legal representation after a crash, work with an experienced Dallas car accident lawyer at The Law Offices of Charlie Waters. Our firm will work rigorously to build a compelling case against those who caused your accident.
We proudly offer car crash survivors free consultations where we can learn more about your case.  You can claim yours by completing the quick Contact Form below or by giving our office a call at 214-742-2223.